TWO ROASTS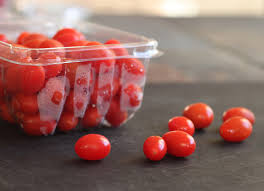 TWO ROASTS
Autumn Harvest Farm, one of my favorite local businesses (and Sarah is one of my favorite people, she is remarkably generous) had boneless pork loin roasts so I bought two and cooked one on Sunday. I didn't want a day long braise, I wanted a good roast. M doesn't eat red meat, or the other white meat, except when it is ensconced in a dumpling wrapper and on a Chinese menu, so I defrosted a boneless turkey breast and decided to roast that too. Grape tomatoes continue to fascinate me as a winter tomato. They aren't very tomatoey, but they play the part better than the ping pong balls marketed this time of year under the name tomato. Even the ones attached to vines are blind alley. The dark red skin belies a watery tasteless interior. But these little suckers look great and taste good. So I used a whole container to make a sauce for the pork. The turkey breast I roasted whole after an agonizing Hamletish debate over whether 'twas nobler to slice cutlets and pound or leave it whole with the skin on. In the end the lure of crispy turkey skin was too intense. But there was never any question about the sauce, this would be turkey sauced piccata, with garlic, lemon, white wine and capers. The two roasts were quite easy, and cooked together in a 325 degree oven. I served it with white rice (Sunday is white rice or white pasta day) and a salad of avocado, radish, kohlrabi and cabbage.
Roast Boneless Pork Loin with Grape Tomatoes
1 boneless pork loin roast, about 2-1/4 to 2-1/2 pounds
salt and pepper
3 T olive oil
3 anchovies
¼ cup coarsely chopped garlic
1 container organic grape tomatoes (a little more than a cup), tomatoes sliced in half
1 t dried rosemary
1 cup white wine
½ cup mixed cured green and black olives, (I used kalamata and picholine)
½ cup chopped parsley
Salt and pepper the roast generously, several hours in advance if possible. Heat an iron frying pan over high heat, add oil and brown the roast on all sides. Put in 325 degree oven and roast for about an hour, until it is just done. The internal temperature should be 150. Remove from oven and let the roast rest while you prepare the sauce. If you need to add more olive oil, do so. Over medium low heat dissolved the anchovies in the oil, mashing them with a wooden spoon. Raise the heat to medium high and add the garlic. Sautee until golden, turn heat high and add the tomatoes. Toss and stir until the tomatoes are heated and just starting to wrinkle. Add rosemary, stir and then add the wine. Cook until the wine has evaporated some and the tomatoes are soft but still retain their shape, add the olives and parsley, a pinch of salt and pepper. Slice the roast into ¼ inch slices and pour the sauce over.
Roast Turkey Breast with Capers and Lemon
Every Thanksgiving I buy an extra turkey to make stock from the bones, and freeze the boneless meat. So what I roasted was half of a whole boneless turkey breast. It weighed about 3 pounds.
1 3 lb boneless turkey breast with the skin on
Salt and pepper
3T olive oil
¼ cup chopped garlic
Pinch of thyme
Juice of 1 whole lemon
1 cup white wine
½ cup parsley
2T capers
Generously salt and pepper the turkey breast, several hours in advance if possible. Heat an iron frying pan over high heat. Add oil and brown the turkey breast. Roast in a 325 degree oven for about an hour, until the internal temperature is 160. Let the roast rest while you make the sauce. Heat the pan over low heat, add garlic with a small pinch of salt and a grind of pepper. Sautee until golden. Add the lemon juice and a little thyme and then raise the heat high and add the wine and the parsley. Let it bubble away until it is a little thick and fragrant then add the capers. Heat through. Slice the turkey breast and pour the sauce over. Serve with rice.
Avocado Salad
2 avocadoes, halved, pealed, and cut into cubes
½ cup coarsely chopped cilantro with stems
½ cup finely shredded red cabbage
1 cup kohlrabi cut into matchsticks
½ cup winter radish cut into matchsticks
grated red or purple carrot (about 2-3T)
1 small clove of garlic minced
Salt and pepper
nuts and seeds and dried cranberries
3T walnut oil
3T red wine vinegar
Toss everything but the dried cranberry, carrot, nuts, and seeds together. Garnish with the carrot, nuts, seeds and dried cranberry.