Grilled Asparagus with Scallops and Mulberries
Grilled Asparagus with Scallops and Mulberries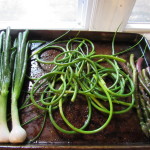 Some people grow so much asparagus they get sick of it. We aren't them. Our asparagus patch produces a handful every two days or so. Often it's just enough to put into a salad. Last week we ate it raw with boiled potatoes. Sometimes I get a few spears and decide to save them until I have enough to cook. It isn't as fresh but it's still fresher than anything you can buy in a store. Since I was going to fire up the Big Green Egg, of which I am a devotee, I thought it would be the better part of valour to grill it. Dinner was going to a garlic rich affair, as it so often is. Pasta with garlic and parsley, ocean perch marinated in olive oil, garlic and sage, wilted endive with white beans, garlic and lemon. Why not make a warm salad of grilled asparagus, scallops and a handful of fresh mulberries, black, sweet and rich? Growing amid that asparagus is its outward twin and soulmate, dill. That too would go in the dressing.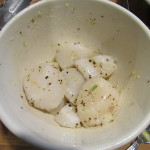 1/2 lb sea scallops
1 bunch asparagus
1/3 cup fresh mulberries
3 T chopped dill
2 cloves minced garlic
1 lemon
1/2 cup of olive oil
salt and pepper
Trim the asparagus (I snap it) and save the tough part in the freezer for stock. Dress the asparagus with olive oil, a pinch of dill and a pinch of garlic, and sprinkle with salt and pepper. Do the same with the scallops. Let marinade for an hour. get a grill really hot (mine was 600 degrees). Grill the asparagus and scallops until nicely charred. Arrange on a platter. Make a dressing: olive oil, lemon juice, dill, garlic, emulsified with a fork. There should be enough lemon juice and olive to make a good dressing. I like mine lemony. Dress the asparagus and scallops, toss the mulberries over it and garnish with the dill.