I Never Wore Tie Dye!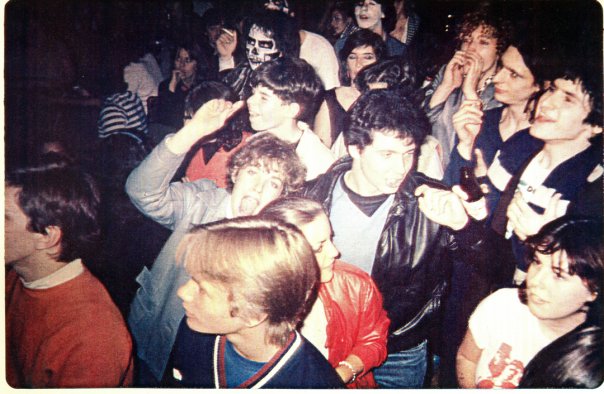 If a blogh is not a place to reveal ones deepest shame I don't know what is. So I am going to confess that for a number of years in high school I was that most shameful thing of all, a Deadhead. I listened to Grateful Dead albums obsessively, I read books about them and about Haight Ashbury, I traveled to their shows (by rail, bus, car and hitchhiking) and took lots of acid. Discovering their records one by one was an odyssey into the past, into the utopian sixties, a decade I idealized. I did listen to other music: Led Zeppelin 4, all of Jimi Hendrix, The Allman Brothers, Joni Mitchell, Leo Kottke, Hot Tuna to name a few. But all took a back seat to the Dead. By 1975 I was that most dreaded thing of all, a seventies hippie (but I never wore Tie Dye or batik!). How I became one, and how I got out of it, is the subject of this post.
Like most oldest children I had to find my way through the musical wasteland on my own, there was no older sibling steering my taste. My parents listened to classical music and musical theatre. I owned The Monkees and before that Little Alvin and the Chipmunks and Peter Paul and Mommy. Playing the trumpet in the dance band gave me a taste for standards like Tenderly and Stella by Starlight, as well as Burt Bacharach tunes. Even at that age I was given to the obsessive playing of single songs, exhausting them and everyone around me until a new compulsion seized hold of me. Hair, Jesus Christ Superstar and Godspell (I told you I would spare no shame), followed. In 1970 or so I started listening to AM radio and naturally progressed into a love of bubble gum pop. I'm not sure when I migrated over to FM. But this was the situation when I entered 7th grade. That was the era of great soul music, and under the influence of new friends I started to by soul 45s with the money that would, a year later, go to cigarettes. Someone gave me Carly Simon's album with You're So Vain on it, and the blue and the red Beatles Greatest Hits records. I had a friend, Burt B. who owned 3 records, Aqualung, Led Zeppelin 2, and Firesign Theatre. We listened to these late at night, while his divorced mother was out on dates, on his little sister's plastic portable record player. There was also a proto-schizophrenic girlfriend, Joanne L. (she later hanged herself in an insane asylum), who introduced me to something she called 'hard rock', in mockery of my bubble gum taste. These bands recorded on the Warner Brother's label (distinctive logo) and all I remember was Uriah Heep, Mott the Hoople and T Rex. The names intrigued me, but the sound not all, at least, the sound couldn't complete with Joanne's big beautiful tits and bewitching tongue.
Mark P. gave me my first Grateful Dead record in 1973. His house was the epicenter of our pubescent decadence. He had parties with soul music and booze. His mother laughed when we mixed every color of liquor in her cabinet and poured it over ice. I watched the network premier of Planet of the Apes there, which was cut short by a blackout. It seems I spent every Friday and Saturday night at his Larchmont Manor house. He had a cousin, Josh, who lived on the Upper West Side and turned us onto pot. Josh also recommended that Mark buy me Working Man's Dead for my birthday. Puzzled, I looked at the Warner Bros label and concluded it must be 'hard rock'. Proudly I showed it to Joanne, who laughed at me, because The Dead weren't hard rock, apparently. I put the record on and was upset to discover a mix of country, folk and rock. Like a lot of music I came to love obsessively I put it away after one listen.
But the Dead have deadly hooks. The invisible insinuation of Jerry Garcia's voice and beguiling guitar had done its work and a year or so later I started to listen again, this time falling in love. I don't know what appeal the Dead has, it is a mystery. Surely few other rock bands become cults. Pink Floyd? The Beatles? Maybe. But the Dead were less media driven. They remained apostles of the hippie bohemia they helped create. They seemed to actually like each other. Their fans couldn't hear their music on the radio. (They had only two FM hits that I know of, Truckin' and Casey Jones, but there may have been others on American Beauty…maybe Sugar Magnolia? But I am too depressed by all of this to even Google it!). The next record I got was The Greatest Hits, and this revealed something astonishing: there were indeed 'hard rock' Grateful Dead Songs, and it was something called Acid Rock. There was a whole corpus of Sixties music that exploded in my nascent psychedelic brain. I was now all Tao de Ch'ing, Grateful Dead, hippie nation, and I found a group of friends who shared the tribal aspirations farting along the surface of a decade that began in despair and ended in total despair. Because the seventies, as opposed to the sixties, were cynical, introverted and apolitical. In retrospect there is an engagement and intensity and theatrical innocence that wasn't evident at the time. Movies like When We Were Kings reveals that what seemed like a disgusting big money media event was actually a quaint expression of a good time, compared to our time of total wall to wall delusion.
I also had a different group of friends, or rather, an overlapping one, and they came out of Bowie, the Tubes, and Lou Reed. I didn't like this music (except for Walk on the Wild Side, which I knew from my AM radio days). But the gateway drug to punk for me was The Velvet Underground. What finally cured me of the Dead in fact (after a transitional period of some years) were bands like The Modern Lovers, Television and the Velvets. These bands had an expansive, energetic, improvisational drive to them that was familiar to me, it continued the rock of the sixties into the seventies without becoming fatuous. The seventies horror was Yes and ELP and the Dead's 25 minute jams with their faux jazz and reggae feel, sixties Muzak. The fact is I was young and insane and the music of the Dead from around the time I started to listen to them to the time I stopped was becoming the music of old men, or 30 year old bong hitters anyway. A Dead show as an amazing event, but going to CB's or Max's or Club 57 at Irving Plaza was the real deal. There was no retrospect involved. It may not have been the 60's, but by the late 70's it seems we had our own decade. The drugs of choice became speed and alcohol. I didn't cut my hair or change my clothes, and I still listened to the Dead, alone, late at night, but the songs I was listening to were all from the sixties, bootleg recordings collected obsessively by my fellow-traveler Deadhead and best friend, Mike.
The punk revolution in music explicitly was pitched against the Dead. They were the symbol of musical flatulence. Iggy Pop, David Bowie, The Talking Heads, Roxie Music, John Cale, The Sex Pistols each in their way were a refutation of the mellow sincerity of the Dead, of CSNY, of Jackson Browne and James Taylor and Carol King, or the corporate synthesizers of English super groups. I am happy to say that by 1978 I never listened to another Dead record and changed my wardrobe to black. The hair stayed long (until I got it cut heading off to Southeast Asia, in 1983), but now it was henna'd burgundy, to go with the two earrings in my left ear and smeared sluttish eyeliner and mascara and chipped nail polish I wore.
The bands I loved best in retrospect were much more like the Grateful Dead than I then imagined. The Velvet Underground were the anti-Dead (their first albums came out in the same year) in almost every way. But opposites are quite alike. The Velvet Underground were both avant-garde and counter-cultural, like the Dead. The Dead were connected to Ken Kesey, Jack Kerouac and Neal Cassidy (whom Garcia loved more than anyone else besides Pig Pen) and the whole beatnik demimonde, and Phil Lesh had been a jazz trumpeter. They were seriously into avant-garde music and incorporated the spirit of free jazz improvisation into their music, including feedback and noise. The Velvet Underground came out of the New York Andy Warhol scene and John Cale had been Lamont Young's student. They also incorporated free form improvisation with noise and feedback and long songs (the average length of Sister Ray was 25 minutes!), only their music was rooted in drone and rhythm, not the blues. Neither band was ever commercially successful in the big sense of the word though the Dead, by dint of staying together, were able to make money. The Velvets, true to form, were an anti-tribe and went the way of most Rock'n'Roll collaborations, mutual contempt. But the amazing thing is, at this point, both bands are best documented by live recordings. And it was these live recording (especially Bob Quine's Velvet Underground recordings, many from San Francisco, when the Dead ruled that roost), that slowly brought me back to the Dead, albeit not as a Deadhead. But that will have to be a different post.